WA State Crane Rule
Washington State to Require Certification of Cranes and Operators
April 2007 - While the revised federal requirement for crane operators continues its administrative journey through the corridors of federal OSHA, attempts in the "other" Washington to implement a similar law came to fruition in early April.
Washington state Governor, Chris Gregoire, signed into law HB 2171 on April 10, 2007 and, in doing so, made her state the fifteenth in the nation to require crane operators to be certified.
Effective January 1, 2010, no employer or contractor may permit a crane operator engaged in construction work to operate a crane unless the crane operator is qualified. The new law also requires cranes to be certified at least annually by a certified crane inspector.
Washington's Department of Labor and Industries (L&I) has been given the responsibility of establishing the requirements for a qualified crane operator, but they must include, at a minimum, a provision for crane operators to have a valid certificate for the type of crane they operate. The certificate must be issued by a crane operator testing organization that is accredited by a nationally recognized accrediting agency. The National Commission for the Certification of Crane Operators (NCCCO) has been accredited by the National Commission for Certifying Agencies (NCCA) since 1998.
The new law also requires the accredited certifying organization to administer written and practical examinations and have procedures for the recertification of crane operators at least every five years. In addition to being certified, the new law also requires crane operators to have up to 2,000 hours of documented crane experience that meets experience levels to be established by L&I. There are provisions for an apprentice or trainee operator to operate cranes under the "direct and continuous supervision" of a qualified crane operator. They must also pass a substance abuse test conducted by a recognized laboratory service.
The new law covers mobile, tower and overhead (gantry) cranes when used in construction work. Knuckleboom cranes, piledrivers and locomotive cranes are also included. Specifically excluded are electrical line trucks, mechanics' trucks, hydraulic jacking systems and aerial lifts.
The enactment of the law, whose passage is one of the swiftest of its kind ever, comes less than five months after the fatal Bellevue, WA tower crane collapse in which a Microsoft lawyer was killed in his condominium, and three buildings were damaged. The investigation into that accident, which sparked a state-wide inspection of tower cranes and resulted in a number being shut down, is continuing. *Article located at www.nccco.org
For More Information on the Crane Rule, Click Here
Practical Exams
Mobile and Tower Crane Practical Exams:
The following sections describe the specific tasks you will be performing when taking the practical examination. It is important that you understand these instructions. If there is anything you do not understand, please request clarification from the Examiner.
Click Here to visit the NCCCO website and watch a video demonstrating the tasks.
The Tasks are:
Task: Pre-Operational Inspection
Task 1: Place Chain in Stop Circle
Task 2: Follow Hand Signals
Task 3: Place Ball in Barrels
Task 4: Negotiate Zigzag Corridor with Test Weight
Task 5: Safe Shutdown and Securing Procedures
There is also a Pre-Test Briefing, a Pre-Test Familiarization Period, and a Pre-Task Familiarization Period (prior to the zigzag task) with a load. You will be required to complete all phases of the test in sequence.
You must report to the test site at the scheduled time. You are required to bring personal protective equipment to wear during the test including as a minimum: hard hat, work boots, and suitable work clothing.
The Test Site Coordinator is responsible for setting the testing schedule. If you are familiar with the operation of the test crane, you may elect to test first to allow other candidates time to review the operator's manuals and load charts. Otherwise, selection shall be by random drawing or by assignment of the Test Site Coordinator.
During the practical examination, you are under the direction of the Examiner and must follow the Examiner's directions at all times.
Once you have completed all of the tests you are taking, you must leave the testing area. Only personnel involved in the administration of the test are allowed in the test area.
TIME LIMITS
For Task 1, Task 3 and Task 4 an "optimum" time limit has been set. If the task is completed within this time period, you receive no time penalty.
Once you exceed this time limit, you will lose points on a gradual basis. If you take twice as long as the optimum time, you will have lost all the points allotted to that particular task. The "optimum" time for each task is stated as part of the task descriptions.
PRE-TEST BRIEFING
While you are waiting to take your test you will have sufficient time to read this description of the tasks be performed and review the operator's manuals and load charts for the crane(s) you will operate. In addition, you will be informed of the make and model the crane, the boom length and the weight of the test load. You will also watch a short video showing all the tasks you will be required to perform during the examination.
Test Fees (On Paper)
The appropriate fee must be enclosed with your application and sent to the Training Center Office before the scheduled deadline. The Training Center will add the candidate to the test roster and forward the application and payment to the International Assesment Institute to be processed. All fees are determined by and paid to the IAI. The Operating Engineers Training Program is not responsible for any fees applied by the IAI.
Checks and money orders payable to International Assessment Institute are preferred. You may also pay by credit card - Visa, MasterCard or Amex. Do not send cash.
Mobile Crane Exams (First Time):
Core Exam plus 1 Specialty Exam: $165
Core Exam plus 2 Specialty Exams: $175
Core Exam plus 3 Specialty Exams: $185
Core Exam plus 4 Specialty Exams: $195
Re-Testing Fees:
Core Exam Only (Specialty Passed): $165
Core Exam plus 1 Specialty Exam: $165
Core Exam Passed: 1 Specialty only: $65
Core Exam Passed: 2 Specialties only: $75
Core Exam Passed: 3 Specialties only: $85
Core Exam Passed: 4 Specialties only: $95
Recertification Fees:
Core Exam plus 1 Specialty Exam: $150
Core Exam plus 2 Specialty Exams: $155
Core Exam plus 3 Specialty Exams: $160
Core Exam plus 4 Specialty Exams: $165
Tower Crane Exams:
Written Exam: $165
Written Exam: For candidates who are registering for Mobile exams at the same as the Tower exam: $50
Written Exam: For candidates already certified in Mobile Cranes (no updated card:) $50
Written Exam: For Candidaes already certified in Mobile Cranes (updated card): $75
You will be charged an additional $50 fee if your application is late.
You will be charged an additional $25 fee if:
— you wish to reschedule without a valid reason (see Emergency Cancellations or Withdrawals).
— you need a replacement certification card.
You will be charged an additional $30 fee if:
— your application form is incomplete
— you do not send in full payment
— your credit card cannot be processed for any reason
— you want to add to, or change, the exams you want to take after scheduling has been completed (in addition to the exam fee).
Candidate applications that arrive after that time cannot be accepted
Walk-in candidates cannot be accepted under any circumstances
Computer Based Written Exams
There is now the option to take the NCCCO written exams on the computer at a PSI testing facility
Follow these steps to sign up for the computerized written exam:
1. Click Here to visit the NCCCO website to read the various requirements and to complete and submit the online application. You will receive an Authorization Email within 24 hours.
2. After you receive your email authorization from CCO, follow the directions given to schedule your test with PSI. You can look up the available test centers by going to the PSI website.
3. Go to the selected test center at the scheduled date and time. Bring with you your photo ID and Authorization Email. Once you have completed your computer-based tests, you will receive your official score results before you leave the test center.
Please note: Taking the written exam on the computer does cost more than taking it on paper. The Training Trust does not reimburse the additional cost of taking the exam on the computers.
---
To download a packet of instructions, exam fees, and locations in WA, please CLICK HERE
---
Rigger Certification
Certified Basic Rigger
The NCCCO Rigger Task Force has identified the following job duties for the Basic level certified rigger. The basic level rigger can perform simple, repetitive rigging tasks when the load weight, center of gravity, the rigging and rigging configuration are provided or
known by the rigger through experience, or on-the-job training prior to the rigging activities. Specifically, they should be able to demonstrate or have knowlegdge of the following: A basic Rigger should be able to demonstrate or have knowlegdge of the following:

• Pre-use rigging inspection
• Identify and attach rigging with basic knowledge of hitch configurations, capacities, and basic knots
• Recognize associated hazards
• Signaling operations
• Use various types of rigging equipment and basic hitches and their applications
Written Exam: consists of 60 multiple-choice questions. Candidates are allowed 60 minutes to complete the Basic Rigger Written Examination.
Practical Exam: The successful completion of a NCCCO Rigger Basic Practical Examination demonstrates a candidate's basic rigging competency.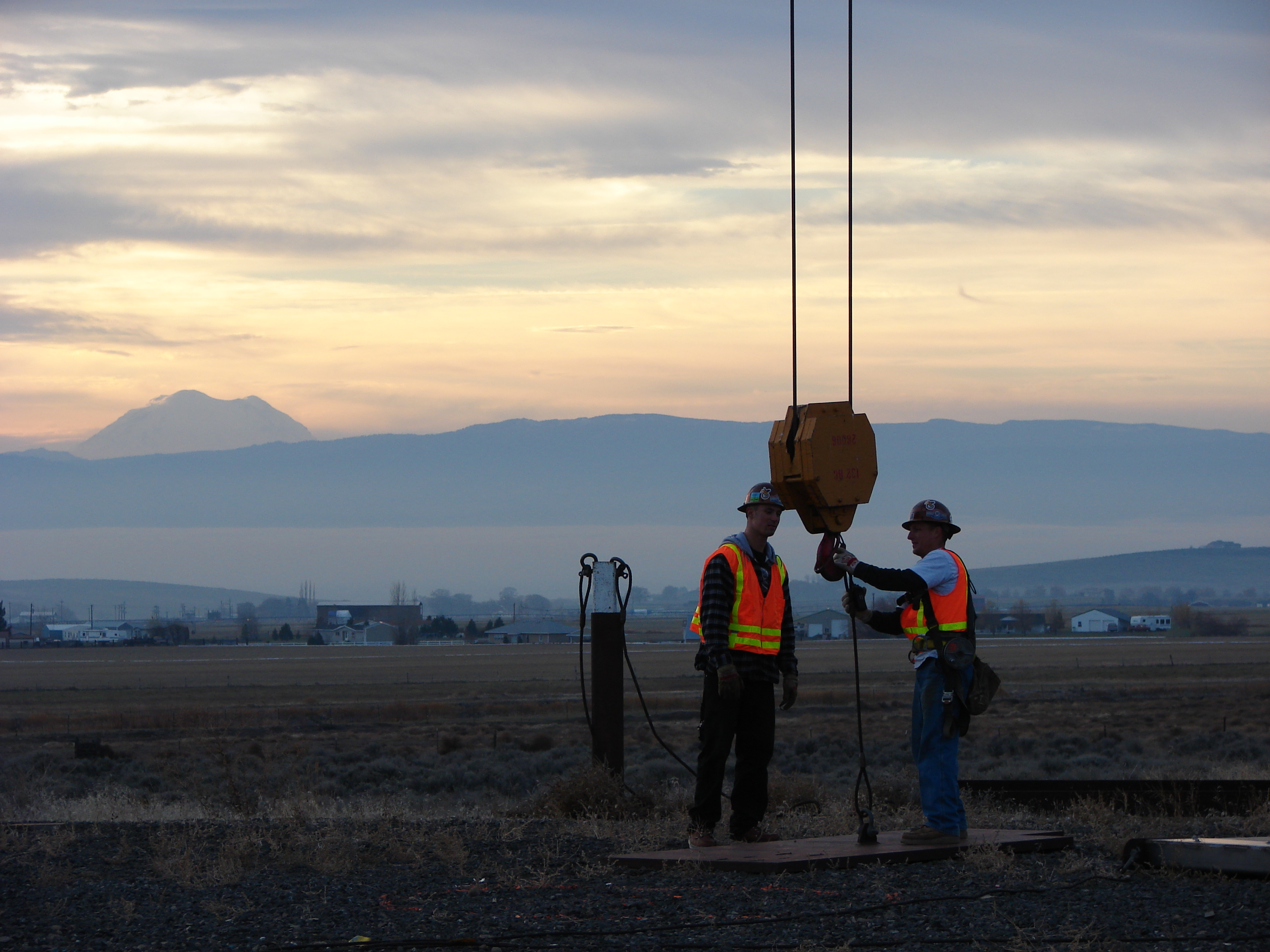 Click Here to View the Rigger Reference Manual
Page Last Updated: May 17, 2018 (08:30:00)